Sunday July 18th 7pm – 9pm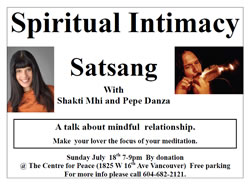 A spiritual discourse and discussion about
Spiritual intimacy between lovers
shakti mhi will talk about the conflict many seekers deal with when walking the spiritual path while being involved in a physical relationship.
The discourse will be open for questions relating to the topic.
Pepe Danza is an extraordinary spiritual musician who has the ability to elevate the listener's consciousness purely through sound and vibration. His meditative playing expands our hearts beyond mind and thought, connecting us to the sound of the inner muse herself.
Open to all by donation
Even though it is not mandatory, we will appreciate your confirmation by email info@pranayogacollege.com or by phone 604-682-2121.
Please let your friends know about this unique evening.
Location: Centre for Peace (1825 W 16th Ave)
Free parking available