Horny Gurus and Gullible Devotees
by Shakti Mhi
I am not even sure how I stumbled upon "Pamela Dyson" declaration, where she declares and describes, under oath, that she was sexually abused by her Guru, Yogi Bhajan, the Master of the Sikh Kundalini Yoga institution.
The above specific story is not the subject of my article, since I have no details about the story except reading the declaration. However, when I read her story it brought up all the claims and blames of spiritual females who were sexually "abused" by their so called teachers/Gurus through the 36 years I am involved in the "yoga world."
I am actually not here to condemn all the male yoga gurus that abuse their power and took and still take advantage of their female disciples. This would be too easy, too simple, too predictable and totally futile.
What I would like to discuss is the issue from the point of view of the female "victims" that often, after years of voluntarily serving their so-called "Gurus" sexually, they suddenly have a story to tell. I need to ask: why did you stay there in the first place!?
After reading the declaration of Pamela Dyson about her relationship with her Guru Yogi Bhajan I can only say: if this is a true story, then it is more embarrassing for the female gender than for the yoga male "GURUS."
In general, spiritual seekers seem very liable to lose their sense of self-knowing when in the presence of a male with long beard and a turban on his head, or just a bald male that declares he is realized.
It is quite easy to understand (understand… not justify!) the male gurus, who using their superior status, are quite happy to entertain their second chakra. Many of these "Gurus" declare they are celibate because it sounds good, and I guess this is what is expected from them in the "pretend" spiritual/yoga world. The problem is that just becoming celibate is far from enough. If a male yogi does not know how to master his sexual energy and channel it to his higher chakras, the increased powerful prana as a result of the intense practice keeps stimulating the first and second chakra and you end up with a permanently "Horny Guru" with a constant fire between his legs. Add to this already poor situation numerous beautiful female disciples (they are beautiful because they sincerely practice yoga

, and here we have, predictably, a "Guru" that all too easily will fall to the temptation.
But my wonder is about the women that fell into the "spiritual sexual trap."
What the hell did you think when your Guru told you he will help to open your heart chakra if you take off your bra?
Where the hell was your brain when your spiritual teacher said that he could awaken your Kundalini if you will take your underwear off?
Where did you leave your intelligence when your Guru told you that serving him sexually is Karma Yoga?
It is one thing if we dealing with rape, or with vulnerable minors… then it is a totally different subject… but we don't! Most of the guru's sexual abuses involve mature women that, along with their underwear, they dropped their ability to judge between right and wrong. Where is the responsibility?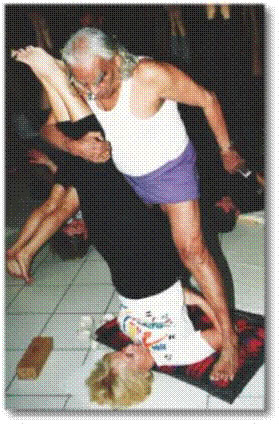 Why would a woman in a yoga class accept her "Master" rubbing his genitals on her body as demonstrated above? Is this because he is Mr. Iyengar and he is considered an enlightened being? I am sure she would not allow anyone else to rub himself against her body.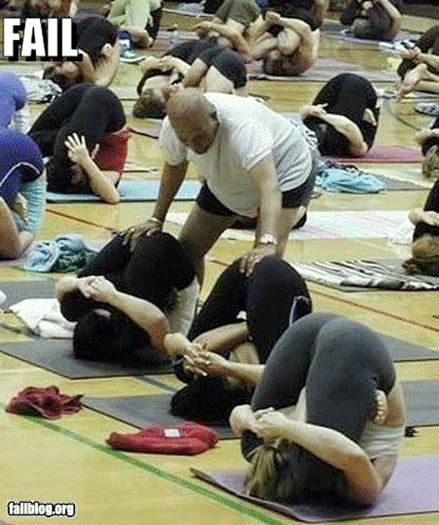 Why any woman in the world would allow her teacher to park his fingers in her vagina as shown above, and pretend this is a usual thing to do for spiritual awakening? Because he is Pattabhi Joise, an enlightened Guru?
Every now and then you hear about another Guru that slept around with his female disciples and everybody is shaking their head from side to side with disgust, condemning the "GURU." I found the fuss around these predictable stories such pretension. Why would he not sleep with his students?
If he has low consciousness and his awareness is mainly between his legs, why wouldn't he feed his sexual hunger by devouring his lovely female disciples?
After all, they are all falling at his feet so easily, willing to satisfy his sexual needs as if this were the thing to do.
You may argue that he is a spiritual teacher and he should walk his talk. No one is a spiritual teacher until he/she has students that take him/her as spiritual teacher! The students are the ones that make the teacher! So if one day you "wake up" to find out that your Guru / Master is the opposite to what you perceive as a Teacher, what does this say about you?… your choices?… your intuition, and your desperation to have a Guru at any price?
I refuse to take the side of the female disciples that often appear as victims (taking in consideration that no physical or other threats were involved). What does it mean about us as women if we keep taking away the female disciple's responsibility and keep defending them as hopeless victims? It means women have no brains, intuition or any self power!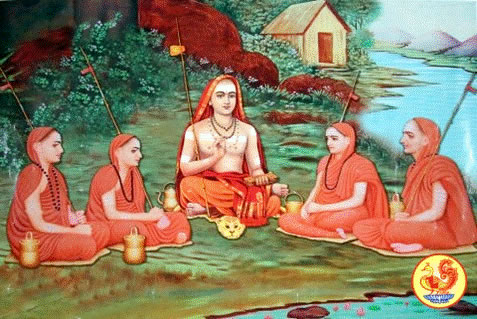 The aspect of surrendering to your Guru/teacher is very deep, important, and sincere on the spiritual path… if you are full of yourself and your ego, the teacher cannot pour her/his wisdom into your cup… BUT!!!!… surrendering to your teacher does not mean you need to lose your sense of self or your power of discrimination. Choose your teacher wisely…otherwise do not complain!

Shakti Mhi
Prana Yoga College