This article is a reply to questions posed by a reader of my earlier article, The danger in the "Karma" concept.
Angus said:
Thank you for the insights. I'm reminded of the biblical Job's friends who concluded that he must've done some great evil to invoke such a harsh treatment from his god. The opposite was true and it turned out that his god was only sporting with him.

My question regards the apparent need for suffering, or existentialist benefits of it, as contrasted against thoughts suggesting a blissful life is attainable. How can we grow and remain empathetic to the plight of others while living a blissful life?
Below is my answer to Angus's questions.
I wouldn't say we need to suffer but rather that we are convinced suffering is inevitable. The reason for it is that we are identified with our temporary form as who we are. Our physical form is fragile and can get hurt or injured or can cease in any given moment, so we are in constant fear, either consciously or subconsciously. We are as well identified with our self-image/ego=small self, so anything that we perceive as not serving our small self, such as rejection, separation, failure, etc., is as well source of suffering for us.
Q. How can we grow and remain empathetic to the plight of others while living a blissful life?
First we should define what Bliss is. Even though it is a direct experience that is too large to describe in words, I will do my best to define it for the sake of our communication.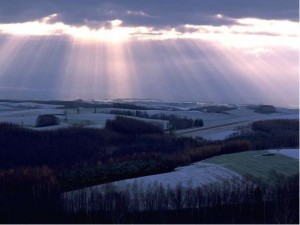 Many people confuse Bliss with happiness. The difference is that happiness relies on external circumstances while Bliss is a state that does not get affected by the dramas of life or by our mind's constant evaluation of good and bad.
I am so happy because we are going on a vacation…
I am very unhappy because our flight was canceled…
Bliss has nothing to do with the ever changing reality. Bliss is a state of supreme awareness and gratitude.
Happiness streams from our mind's satisfaction, while Bliss is the permanent state that shines from our higher self, the ultimate observer that cannot be affected by our mind fluctuation.
Many of us, even if not dwelling permanently in the Bliss state, have random moments where the mind ceases and we experience a state of serenity, inner peace, complete awareness, and gratitude for being.
Usually this state lasts until the mind takes over again, flooding us with doubts, fears, hesitations and a sense of lacking. this when we say Goodbye to Bliss… we are back to suffering and pain.
Imagine Bliss as sun rays breaking through the clouds of ignorance, shining upon us. As a metaphor, the state of realization is when the clouds of ignorance disappear and we unite with the light that shines from the blissful sun.
When we start walking on the spiritual path some days are cloudier then other days but now we are aware that the sun is always behind the clouds. This is the same with Bliss, always there, but often blocked by the clouds of our minds.
People think that in the state of Bliss one does not experience feelings such as sadness, grief, empathy, pain and other human feelings. We need to keep in mind that the whole spiritual experience happens within the human experience; it is a part of the human experience. So the "Human" does not disappear as Bliss starts shining from the higher self… Instead it gets illuminated.
When the sun is shining we tend to feel up and high, and still you need to deal with the daily life challenges. Unlike rainy, cloudy grey days, when it is sunny we tend to move around with a positive attitude and full of energy.
The same with Bliss, you live life with a constant light as there are no more clouds (fear, hesitation, despair, anger) to block the sun rays but you still need to do whatever needs to be done and experience whatever needs to be experienced…It cannot be avoided in the physical dimension. If your beloved one died you grieve for her, and yet the sense of awareness and gratitude are not touched. When you face ordeals and harsh times you may not look happy but the sense of acceptance through your blissful essence will guide you to go through the maya mindfully and in peace.
I myself experienced a blissful state while my human form experienced a great ordeal. In an accident I fell down 32 feet, crashing on a rock. My body was broken and wounded badly. I was lying down on the ground experiencing horrifying pain in each of my cells, and yet I could observe a state of Bliss shining from my higher self.
I was lying there not sure if I am going to live, and yet weaves of Bliss were flowing through my injured body. It was a very profound moment that I owe to my practice.
It is not an easy task to maintain connection with our blissful sate in the fast paced, ever stressful reality we all deal with. Easy to fall in despair when you see how humans often treat each other and other beings on Earth as well as the Earth itself.
Never suppress your feelings for the sake of fitting in a preconceived image of spirituality… there is no such thing. The practice is about flowing smoothly between whom we are as an essence and who we are as a physical form and find peace as we go through it all.
Love Shakti