How to be in a relationship while walking the spiritual path, with Shakti Mhi & Pepe Danza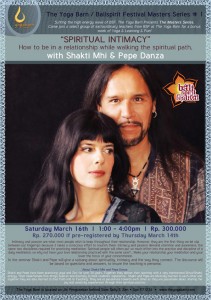 Saturday March 16th – 1:00 – 4:00pm
Location: The Yoga Barn – Jalan Raya Pengosekan (behind Siam Sally Restaurant), Ubud – Bali, Indonesia
Cost: 300.000rp (270.000rp if pre-registered by Thursday March 14th)
Intimacy and passion are what most people wish to keep throughout their relationship. However, they are the first thing we let slip between our fingertips because it takes a conscious effort to nourish them. Intimacy and passion demand attention and awareness, the same two disciplines required for practicing meditation. Spiritual people will often put so much effort into the practice and discipline of a daily meditation, so why not have your love relationship practiced with the same care?… Make your relationship your meditation and your lover the focus of your concentration.
In the seminar Shakti and Pepe will give a satsang about spirituality, intimacy and the way they connect. The discourse will be based on questions and answers, to insure the teaching is personal.
You can also download the poster for this event.