Why "GIVING" often depleting us
by Shakti Mhi
I was sitting in a beautiful cafe in Bali, hearing over my shoulder a young woman complaining to her friend, "I keep giving and giving and giving so that now i feel completely depleted. Now it is MY time to give to myself."
Many of us had or maybe have the feelings we give too much to people in our lives. As a result we may feel: depleted, empty, consumed, exhausted, drained etc.
The question is, do we really give when we "think" we give?
Giving is an action.
In general there are two types of giving. The first one is an action that comes with the definition of "giving". In this case, "giving" is trapped in time and space; it has a beginning and an end. It has a reason. In this type of "giving", the giver is fully aware that she gives.
Because this type of giving comes with a reason, often we as givers hold expectations for certain outcomes and recognitions. On top of it we do not let go of "the giving". We hold on to it, we write it down in our invisible little inventories of giving and every now and then, like a bookkeepers, we make all kind of calculations around our giving.
We calculate:
How many times we gave against what we received?
What did we get as an exchange to what we gave?
How much acknowledgment we received for our giving if at all?
Was the recognition we received for our "giving"  in the right proportion for what we gave?
And it goes on and on…
In the above category of "giving" it could be us as parents that keep reminding our children how much we gave them by sacrificing our selves and our lives for them and how little we receive as an exchange.
It can be us as lovers complaining to our partners and spouses how much we gave them and we got very little in return.
It can be us as friends becoming bitter for "being always there for you but when I needed you, you never showed up"
In other words, when we give as the above we do not let go of the action of giving, we keep holding on to the action as if we own it.
The other way of giving is a selfless giving. It has nothing to do with us. Giving goes through us, we manifest it without ownership. It is a giving through service. You do what needs to be done and no trace of it remains in you.
As a metaphor for the two actions of giving :
You are walking on the street and there is a small rock sitting in the middle of the way that you are aware can be a hazard for people that may stumble on it. So you move it to the side and you keep going with no trace of thought about it.
OR
After you moved the small rock to the side you write your name on the rock, in big letters, so every one knows you are the one that did it.
Then you stand beside it and anyone that comes by it you let them know you moved the rock to the side for their benefit. When some people do not thank you or not appreciate your action you get disappointed and even bitter and you tell yourself that you will never do such thing again as people do not deserve your "giving".
To the people that didn't return your gesture of giving the way you expected they will, you keep reminding them about the rock and compare it with the little they give you as a return.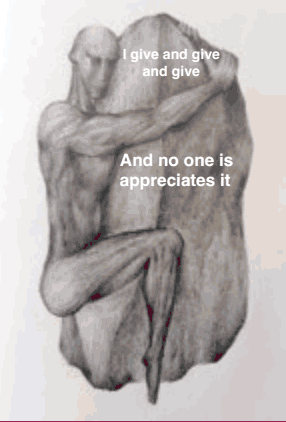 As spiritual seekers we should have a commitment that every day we give more than we take. As giving through service is the greatest way for taming the mind and ego. When you give as a servant you become secondary, it is not about you anymore, it is about the universe.  And the universe may present itself as a cat or as a dog, or a person you do not know, your children, or your lover, or the person that stands beside you in in this moment.
One of my brilliant students asked me: "so how do you know you give more than you take if you are not supposed to hold an inventory of your "Givings"?.
Well, if you constantly feel depleted or in doubt or you are full of heaviness while you give to the world then you know your giving is lacking in giving. In this case giving is more of an enhancement for your state of being a victim.
When you give as a service without owning it, you flow on high frequency energy. Your heart may be heavy from time to time due to circumstances, but never your spirit.
Love
Shakti Mhi